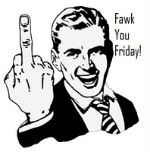 Yep, it's another Friday, and that means it's time to sound off!
Fawk you to the pundits and the richy riches who think that poor people have it made because they have a refridgerator!
See
here
for what I mean, and click the video called "World of Class Warfare"
Did we as a society loose our minds?! Since when do people need 10 houses, 20 cars, closets full of shoes we never wear, clothes we only wear once and then throw away?!
Fawk you people! Greedy, greedy people.
Remember, it's just a ride.