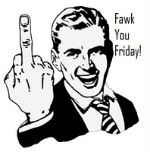 WTF happened to the Blogger dashboard?! This sux! It's hard to move around in! I have to hunt for everything I want! It's ugly! I don't like how it shows "blogs I'm following"!!!
WTF?!
This is complete bullshit!
Now I'm going to throw a tantrum like a 3 year old!
This post has too many exclamation points!
Remember, it's just a ride.
(hard to do that when people fuck with something that was working and more serious issues are there...)